Product Recall
UK 13 Amp Plug to Clover Leaf Power Cable
Dear customer,
It has become apparent that a batch of clover leaf (IEC C5) power cables supplied individually and with laptop AC adapters have been manufactured with substandard cables, which are prone to premature fraying and breakage when bent near to the clover leaf connector. The cables were supplied between the 17th August 2012 and 20th March 2013.
The affected power cables have a distinctive circular pattern on the back of the UK 13 Amp plug, with three triangles in the centre, as illustrated in the photograph below: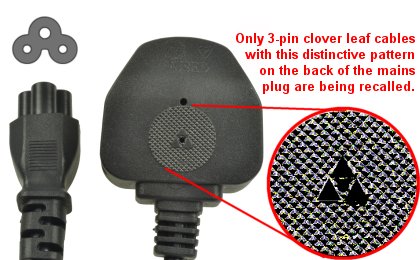 • View larger image
If you have one of the faulty power cables, please stop using it immediately, and fill in the following form quoting your order reference, and specify the quantity of replacement cables required for immediate dispatch.
Please note:
The AC adapters are not faulty, and do not need to be replaced. Only the detachable mains cable is being recalled.
You must provide the purchase date, or the order reference, or both to qualify
You must submit a separate application for each order.